Graduate Sunday
May 18, 2003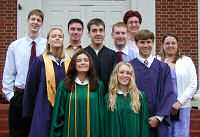 Today College Park celebrated our graduates. Graduating from high school are:
Meredith Baker
Andrew Brendle
Matt Coomes
Spring Gray
Lindsay Hobson
Joseph Overby
Ashley Thornton
Graduating from college are:
Corey Alexander
Drew Blackwell
Jon Cauble
Rachel Heller
Ann Keith
James Pearson
Drew Preslar
Angie Somers
Ryan Southern
Eyewitness joined in leading worship.
A recording of today's service can be heard by clicking here. (If you have trouble listening to the audio, click here for tips on RealPlayer.)
Photos are divided into two galleries organized by time.
Click on any photo below to visit the gallery starting at the indicated time.
---
College Park Baptist Church home page