Baptism and Communion
"Consider your ways"
August 1, 2004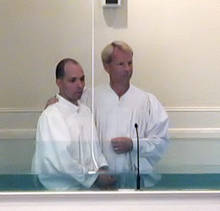 Today College Park celebrated the ordinance of baptism for Chris May. We also celebrated communion. Photos from today's service are below.
Click on one of the following links to view:
To listen to today's service, click on any of the following:
If you have trouble listening to the above, click here for RealOne Player instructions.
To see related scripture and classic commentaries online, click here.
Click on any photo for a larger image.

| | | |
| --- | --- | --- |
| 040801-1052-001.jpg | 040801-1052-001a.jpg | 040801-1052-002.jpg |
| 040801-1052-002a.jpg | 040801-1054-006.jpg | 040801-1107-009.jpg |
| 040801-1107-009a.jpg | 040801-1108-010.jpg | 040801-1108-010a.jpg |
| 040801-1108-012.jpg | 040801-1108-012a.jpg | 040801-1109-013.jpg |
| 040801-1109-014.jpg | 040801-1110-015.jpg | 040801-1110-015a.jpg |
| 040801-1111-016.jpg | 040801-1111-017.jpg | 040801-1113-018.jpg |
| 040801-1114-019.jpg | 040801-1133-021.jpg | 040801-1158-023.jpg |
| 040801-1158-024.jpg | 040801-1158-025.jpg | |
| | | |
College Park Baptist Church home page