One Thing I Know
John 9
Worship, September 19, 2004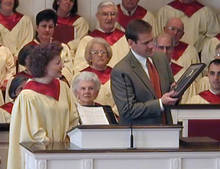 Today the church presented a plaque expressing appreciation to Jeff Parker for all that he and Jenny have brought to our church in the past seven years. We will miss Jeff, Jenny, and their daughters.
Jenny performed a moving rendition of "The Majesty and Glory of His Name" as the offertory.
Photos of today's service are later on this page.
Click on the following link to view:
To listen to today's service, click on any of the following:
If you have trouble listening to the above, click here for RealOne Player instructions.
To see related scripture and classic commentaries online, click here.
Click on any photo for a larger image.
Thumbnail Page 1 of 1

| | | |
| --- | --- | --- |
| 040919-1053-001a.jpg | 040919-1057-002.jpg | 040919-1057-003.jpg |
| 040919-1057-005.jpg | 040919-1057-006.jpg | 040919-1058-009.jpg |
| 040919-1058-011a.jpg | 040919-1058-011b.jpg | 040919-1058-014.jpg |
| 040919-1110-015.jpg | 040919-1131-016.jpg | 040919-1132-018.jpg |
| 040919-1138-019.jpg | 040919-1138-019a.jpg | 040919-1138-019b.jpg |
| | | |
| | | |
| | | |
| | | |
College Park Baptist Church home page