Step Out of the Box/
Pop Warner Day
Worship Service
October 17, 2004
Today College Park celebrated Pop Warner Day. We annually invite several Pop Warner football teams to join us in worship. Today's sermon was delivered by the Rev. Curvy Buford, youth pastor of Solid Rock Missionary Baptist Church, and also a coach in the South Fork Panthers organization.
Today's Offertory was performed by yoU-Turn, the youth praise band.
Click on the following link to view: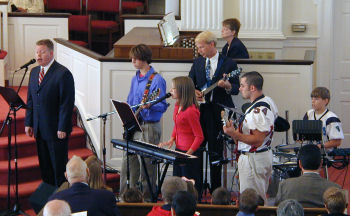 To listen to today's service, click on any of the following:
If you have trouble listening to the above, click here for RealOne Player instructions.
To see related scripture and classic commentaries online, click here.